Social emotional Learning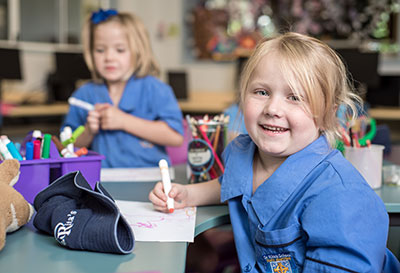 A Catholic education holistically promotes the development of the human person as an individual in relation with others and within community. One area used in schools to develop the whole person is Social Emotional Learning (SEL).
SEL is a process used for helping students develop the fundamental skills that are necessary for wellbeing and therefore for life effectiveness. It helps develop the skills necessary to recognise and manage emotions, demonstrate caring and concern for others, establish positive relationships, make responsible decisions, and handle challenging situations effectively.
The SEL Strategy is a direct, intentional and systematic approach to invigorating learning, nurturing wellbeing, building relationship quality and connectivity, and strengthening the effectiveness of the processes, procedures and practices of the systems within which people work, learn and live.
At St Rita's we use the "Second Step" program to explicitly teach SEL. Second Step is a program rooted in SEL that helps transform schools into supportive, successful learning environments uniquely equipped to encourage children to thrive. The second step program is research based, teacher informed, and classroom tested to promote the social-emotional development, safety and wellbeing for children from Prep to year 6.
Other useful strategies used across the school on a regular basis include such things as brain breaks, prayer and meditation. Some of the important social-emotional attributes we strive to instill in our young people are a growth mindset, positivity, resilience, determination, gratitude, persistence, kindness, patience, collaboration, confidence, calmness and empathy.
Further information on what SEL is, what it does, how it does it and the SEL strategy in Catholic schools in the Cairns Diocese, can be found here https://www.cns.catholic.edu.au/your-education/social-emotional-learning-sel/.