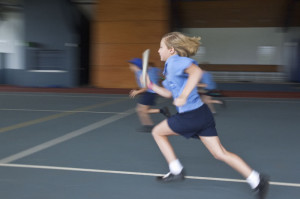 St Rita's prides itself on being a well-equipped and highly resourced school.  The last 10 years have seen the construction of a state-of-the-art Prep building.  Additionally, many of the remaining classrooms have been refurbished, providing an environment that is conducive to learning.
In 2010-11, through the generosity of the Federal Government's Building the Education Revolution (BER) Funding, the library was revamped.  Its new features included an interactive whiteboard, media room, IT area and new furniture.  The new design enabled flexible learning experiences to take place.  In 2013, the library has undergone more changes in an effort to better utilise the fantastic space and streamline access to resources, for both staff and students.  The IT section is well equipped for the teaching and learning of digital technologies.
As part of the BER project in 2011, a large undercover multi-purpose court was built.  This allowed the children to engage in physical activity regardless of the weather conditions.  This space has become a safe and spacious haven for active children when the wet season descends.
Looking toward the future, master planning for the school involves the redevelopment of the demountable classrooms, facilitating the creation of state-of-the-art learning spaces. Another aspect of the master plan involves the refurbishment of the junior school playground.
The school's Parents and Friends Association is continually working with the staff of St Rita's to improve the school's facilities; in 2011 members helped the school purchase six interactive whiteboards (one for each room); a purchase that has allowed teachers to be more innovative when planning learning experiences.   In 2012, they assisted with the significant cost of updating data cabling throughout the school, an improvement that has allowed students faster and more consistent access to information and online resources.  The school community is, and always will be, extremely grateful for their efforts.