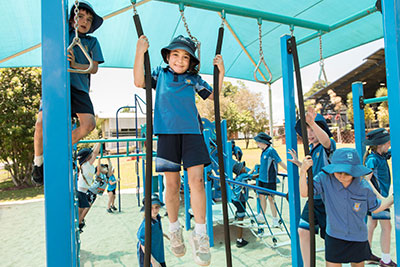 St Rita's Prides itself on being a well-equipped and highly resourced school.
In 2011 the school opened its 21st century library which is welcoming, bright and flexible for a variety of learning activities. The library has become the centrepiece of the school.
In 2011 a large undercover multi-purpose court was opened. This has allowed the children to engage in physical activities regardless of the weather conditions. This space has become a safe and spacious haven for active children when the wet season descends.
In 2018 the new staffroom and toilet facilities were built. Also in 2018 a new playground was constructed thanks to the hard work from the Parents and Friends committee.
In 2020 the school prides itself on being able to provide every student with their own digital device which includes an iPad for students in Prep to year 3 and a Chromebook for students in years 4 to 6. The school has invested considerably on upgrading its Information Technology network to enable the digital learning initiatives that the school is now engaged in.
Each of the air-conditioned classrooms has an Interactive Whiteboard or screen which connects students and teachers to the web and many teaching and learning resources.