Enrolment refers to the formal agreement by the Principal on behalf of the school community to place a student's name on the school's enrolment register, thereby conferring on that student and his/her family all the rights and responsibilities that normally pertain to any enrolment. Enrolment refers to a full enrolment, not subject to special conditions.
An application for enrolment is simply that. Acceptance by the school of an application does not mean that an offer of enrolment will automatically follow.
Once a student has been enrolled, any consideration of enrolment cancellation is subject to the considerations and regulations applying to suspension and exclusion as outlined by Catholic Education Services.
Enrolment Procedure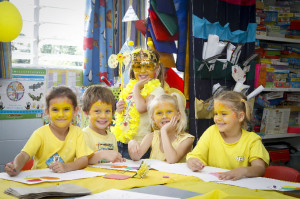 Every effort has been made to ensure that the enrolment application procedure is a relatively straightforward process. Firstly, parents are encouraged to contact the school for an enrolment package. Once the enrolment form and supporting documents have been collated, they can be returned to the school. Then when these documents have been returned, an enrolment interview, involving the parents and child, will be arranged with the Principal. Implicit in the acceptance of an enrolment is the willing compliance, by both students and parents, with the expectations and standards set by the school.
Enrolments for the Preparatory Year
Preparatory year is offered as full-time for five (5) days per week. Unless there are exceptional circumstances, parents will be required to send their children for the full-time, five (5) days a week experience. For the purpose of enrolment, documentary evidence of the child's date of birth is required.
Enrolment Procedure: Years 1 – 6
As a Catholic Primary School, we are obliged, where vacancies exist, to accept children who are transferring from other Catholic schools. However, in keeping with the enrolment policy of this school, non-Catholic students are also welcome on the grounds that they are committed to the values of the Catholic Church and are willing to take part in all school activities, including religious education, class prayer and school liturgies.
In addition to the information contained on the enrolment form, parents should notify the school of:
Reports from the previous school attended
Aboriginal or Torres Strait Island heritage (Funding arrangements are available for these children)
Details of anything out of the ordinary with respect to the child's health e.g. any special allergies, treatment, etc
Details of any medicine to be taken while at school
Details of any disability, impairment or syndrome the child has
Reasons for non-participation in sporting activities
Reasons for lower than expected performance
We would appreciate parents' frank and open discussion on any of these matters.
For more information on Enrolling Your Child and the relevant forms, please visit the Catholic Education website.