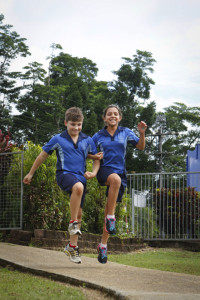 School Hours
| | |
| --- | --- |
| 8.45 am | 1st bell – finish of play and preparation for school day |
| 10.55 am | supervision of lunch |
| 11.05 am | supervision of play |
| 11.15 am | recommencement of class |
| 12.45 pm | supervision of lunch |
| 1.00 pm | supervision of play |
| 1.25 pm | recommencement of class |
| 3.05 pm | conclusion of school day |
Student Absence
If a child is absent for the day, parents are asked to contact the school by phone or in person. Unexplained absences will be followed up on the day of the absence. If a child is to be absent for any length of time, parents are asked to inform office staff, allowing arrangements to be made with the class teacher regarding missed lessons.
Late Arrival or Early Departure
All late arrivals should sign in at school reception prior to attendance in class. Parents taking students before the end of the school day must sign students out at school reception.